Farewell Peter van de Vorle – A humanitarian has passed away
On Wednesday September 22nd Peter van de Vorle – co-founder of Wijnroemer Relief Goods (WRG), International Medical Group Europe (IMG Europe), Environmental Nano Solutions (ENS) – passed away in the presence of his wife and daughters, at their home in Gassel.
Early 2021, Peter received the unfortunate news that he was ill, and that it was very unlikely that he would recover. Time was going to be the most uncertain factor in his life and time has passed him by.
Peter was born on June 5th, 1952, in Venray (the Netherlands). At the age of 18 he joined military service – which was the foundation for his later passion; his company in technical supplies and logistics. After completing military service and following a position at the medical Parasitology Department at Radboud University in Nijmegen, Peter started his technical wholesale business WRG. In this capacity he built his network of humanitarian aid organizations, for which he provided technical support in disaster areas. Thanks to Peter's limitless commitment, friendly approach, technical knowledge, and innovative solutions, WRG has grown into a unique company that provides worldwide support to aid organizations.
We remember Peter as a caring man, a family person, and a driven entrepreneur. His life revolved around his wife Lia, his five daughters, the grandchildren, and the dogs. Besides his family, Peter gave everything for his sixth child: Humanitarian aid organizations. The collaboration with Médecins Sans Frontières (MSF; Doctors Without Borders) has always been more than just a business relationship: Peter supported them 24 hours a day, 7 days a week. Supplying MSF projects in Haiti, Sudan, Liberia, Rwanda, Congo and many more countries in need, developing customized solutions for field hospitals and refugee shelters worldwide.
Dear Peter, dear father, we are proud and honored to continue your life's work. We thank you for your love, support and friendship. You will always be our rolemodel and you will always be in our hearts.
To honor Peter's lifework we have started a fundraiser to support MSF. Please leave a donation to contribute in MSF and their humanitarian work.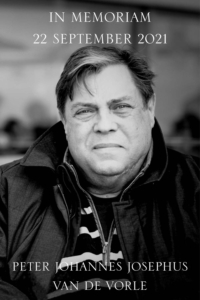 As a reliable partner Wijnroemer Relief Goods (WRG) offers a complete solution in emergency and humanitarian relief goods. WRG supplies and develops technical support products to facilitate the relief operations. Fast and efficient supplies with qualitative products and novel solutions define the crucial added value of our family based company.
Since 1983 WRG has been supporting aid organizations with technical assistance and delivery of relief goods in the areas of shelter, bedding, water and sanitation, power supplies, customized toolkits and more. Through those years, WRG has worked with several NGO's such as United Nations (UN), Médecins sans Frontières (MSF), International Federation of Red Cross (IFRC), Oxfam, Concern Worldwide, Save the Children, WarChild, Goal, and WorldVision.
We are proud to announce that the ISO 9001 certificate is awarded to us by the Dutch Certification Institute B.V. (NCI). Enthusiastically, we remain at your disposal to provide you with all your humanitarian product requirements. With a focus on COVID-19, we keep stock of personal protective equipment such as: FFP1, FFP2 and FFP3 respiratory protection and face shields.